Harness the Power of SAP Business One.
Let us help you with your SAP Business One implementation. 
Need to know what is the Best ERP Solution for your Business?
Have you outgrown your current ERP or Accounting Solution? Let us help you decide. Inquire now for a Free Assessment.
Need to know what is the Best ERP Solution for your Business?
Have you outgrown your current ERP or Accounting Solution? Let us help you decide. Inquire now for a Free Assessment.
SAP Business one also known as SAP B1 is an ERP Solution designed for Small to Medium Sized Businesses. SAP Business One offers a low total cost ownership by reducing the expenditures associated with modifications and upgrade cycles and by eliminating the costs associated with multiple systems.
SAP Business One also provides an intuitive user interface and standard Microsoft Windows environment, helping users become more productive by significantly reducing the learning curve. It enables businesses to reduce implementation time and quickly realize the beneits of a modern solution.
Fasttrack Solutions provide ERP Implementation & Consultancy Services backed by an extensive pool of certified ERP professionals with a combined experience of more than 18 years in the industry.
Why you need SAP Business One?
Designed specifically for small and midsize businesses, SAP Business One is a single, affordable application for managing your entire business with greater clarity, including financials, sales, customer relationships, and operations. It helps streamline your end-to-end operations, gain instant access to complete information, and accelerate profitable growth.
What are the Key Functionalities of SAP Business One?
| | | | | |
| --- | --- | --- | --- | --- |
| Accounting and Financials | Sales and Customer Relationship Management | Purchasing and Operations | Inventory and Distribution | Reporting and Administration |
| Manage your general ledger, journals, budgets, and accounts receivables and payables. | Manage the entire sales process from first contact to closing the sale and from customer data management to aftersales support. | Control the entire procurement process. | Manage inventory across multiple warehouses and locations, and track and record stock movements. | Create, manage, and distribute reports that help foster clarity in your business. |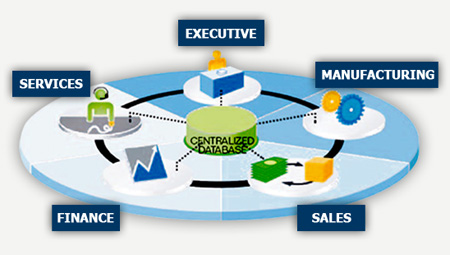 How can SAP Business One help you grow your business?
SAP Business One can help your company cut costs, save time and increase profitability. It streamlines business processes to eliminate work duplication which increases efficiency. It also provides management and users an accurate and real-time business information relevant in making timely and well-informed decisions. It is flexible and adaptable to the changing business environment. The software manages the entire business in a single SAP system – it is a financial software, accounting software, inventory software, purchasing software, CRM softtware in one. It is affordable, easy to use and quick to install.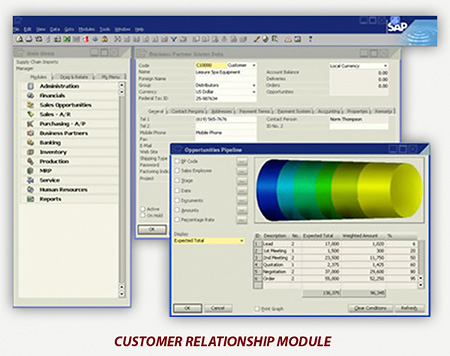 Advantages of SAP Business One
SPEND MORE TIME GROWING YOUR BUSINESS using newly streamlined operations instead of reacting to the details of day-to-day tasks.
RESPOND QUICKLY TO CUSTOMER NEEDS by instantly accessing the information necessary to make confident business decisions.
ELIMINATE REDUNDANT DATA ENTRY AND ERRORS errors with a single, integrated system that improves process efficiency, minimizes costs and delays, and strengthens your bottom line.
FORM CLOSER CUSTOMER RELATIONSHIPS via centralized information that makes it easier to manage customer communication and sales contracts.
LOWER YOUR TECHNOLOGY COSTS AND ACHIEVE FASTER TIME to value by using a system that can be implemented quickly, is uncomplicated to maintain, and minimizes end-user training.
SAP Business One is more than just Accounting
By integrating all critical business functions, SAP Business One provides sales, customers, purchasing, inventory, operations, financials, and human resources (HR) support. By capturing business information in a single system, it makes the information instantly accessible across the organization, eliminating duplicate data entry, costs, and related errors. Check out this video to learn more.
LET'S TALK ABOUT YOUR PROJECT
FASTTRACK SOLUTIONS, INC.
10/F The Valero Tower
122 Valero St. Salcedo Village
Makati City
2f AMV Bros Bldg., #9 F. Cabahug St.,
Mabolo, Cebu City
OFFICE HOURS
Monday to Friday
9:00 AM to 6:00 PM
FASTTRACK SOLUTIONS, INC.
10/F The Valero Tower
122 Valero St. Salcedo Village
Makati City
2f AMV Bros Bldg., #9 F. Cabahug St.,
Mabolo, Cebu City
OFFICE HOURS
Monday to Friday
9:00 AM to 6:00 PM