ERP Solutions Philippines
Basically if you run a small business or a multinational corporation, you definitely need an ERP Solution. If you are feeling a bit confused about the variety of ERP vendors and solutions in the market, worry no more. You came to the right place! There are several processes in a company that needs to be integrated together. SAP ERP Software helps a company in order tracking, accounting, manufacturing, delivery, purchasing, reporting and more.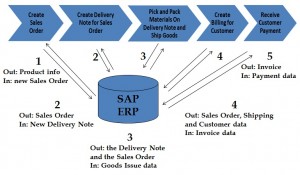 Fasttrack Solutions Inc. provides the best Enterprise Resource Planning Solution for your business – SAP Business One (SAP B1) and SAP Business All-in-One (SAP A1). SAP covers every area of your business!
What are the advantages of having an ERP solution?
•   Consistent on-time delivery rates
•    Lower administrative and overhead costs
•    Near-perfect quality ratings
•    Reduced purchased materials costs
•    Increased sales and profitability
•    Improved workflow and efficiency
•    Provide a consolidated picture of sales, inventory and receivables
Here's how an ERP Solution works:
Want to know more about the SAP System? Follow this Page: https://fasttrackph.com/sap-system/