Retail
Retailers in today's dynamic, tech-driven environment are in a race to provide topnotch service in record time. SAP's business solutions help retailers be at the top of their game – and stay there.
Let's have a conversation about how we can help.
See how our ERP solutions address the various paint points of each chief decision maker in your industry.
CEOs, CFOs and CIOs have defined areas of expertise and scope. They share one thing in common, though – the great responsibility of carrying the organization along in good and bad times alike. Their pain points are never theirs alone, because every decision they make affects, in big or small ways, the organization as a whole.
Need to know what is the Best ERP Solution for your Business?
Have you outgrown your current ERP or Accounting Solution? Let us help you decide. Inquire now for a Free Assessment.
Best Retail Software Solution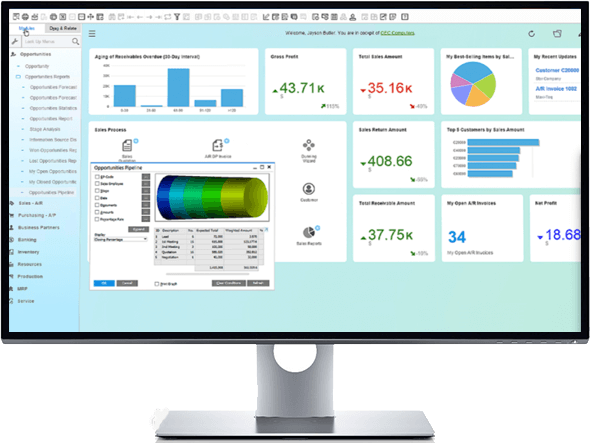 The retail business has seen tremendous change in recent months. Mobility restrictions have curbed people's in-person purchases.
This does not mean, however, that people have stopped buying — they are just doing so online.  More than ever, retailers of all sizes have to provide a convenient, intuitive, seamless buying experience for their consumers.
Our ERP solutions help provide this experience, even as it also enhances the way in-person purchases are made for when the restrictions are finally lifted in the New Normal.
Our ERP solutions benefit not only countless business organizations; they also make business leaders step up their game. CEOs, CFOs and CIOs are empowered to make sound strategic decisions based on real-time and comprehensive information generated by their chosen solution.

The entire organization looks to the CEO for direction and strategy. But how does a chief executive lead during times of uncertainty and upheaval?
Our ERP solutions help strategists navigate the murkiest of waters and come up with a winning game plan. 

The CFO has long ceased to be a mere number cruncher.  Today's environment demands that CFOs be strategic partners of the CEO in deciding how to balance the company's priorities and steer it toward its goals.
Our ERP provides invaluable, indispensable support to ensure all your business decisions add up.   

Leading your organization's digital transformation is a daunting task. CIOs need the best companion in embarking on this all-important step. 
Get the entire team on board with world-class business solutions.
LET'S TALK ABOUT YOUR PROJECT
FASTTRACK SOLUTIONS, INC.
10/F The Valero Tower
122 Valero St. Salcedo Village
Makati City
2f AMV Bros Bldg., #9 F. Cabahug St.,
Mabolo, Cebu City
OFFICE HOURS
Monday to Friday
9:00 AM to 6:00 PM