The SAP strategy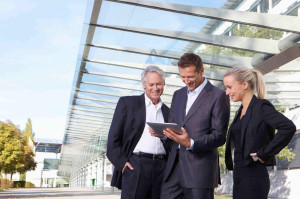 It's 2015, the start of the New Year, and SAP, which has been around for more than 40 years, is as strong as ever – perhaps even stronger than it has been. How is one company able to have this staying power?
An article at the company's Web site discusses SAP's vision, mission and goals. Here are some highlights:
SAP attributes its sustained growth to its focus on innovation, its broad portfolio, and its ability to stay close to its customers and understand their ever-changing needs.
Its vision is to help the world run better and consequently to improve people's lives.
Its mission is to help every customer become a best-run business.
How? Three components, really. By:
delivering technology innovations
that address the challenges of today and tomorrow
without disrupting customers' business operations
Then again, how is SAP able to measure its customers' success and its own? It has a set of four financial and non-financial indicators: revenue, margin, customer loyalty, and employee engagement.
Revenue. It aims to achieve at least €22 billion total revenue by 2017.
Margin. It aims for 35% non-IFRS operating margin (2013: 32.6%). In order to capture growth opportunities in the cloud, we expect to reach this goal in 2017 instead of 2015, as previously stated.
Customer Loyalty. Using the Net Promoter Score to measure this, SAP aims for an NPS increase by four percentage points in 2014.
Employee Engagement. The company uses the employee engagement index to measure the motivation and loyalty of its employees — how proud they are of SAP and how strongly they identify with the company. SAP commits to hitting a score of 85% in 2015. SAP HANA plays a key role in executing SAP's strategy for 2015 and the years to come. Complex business transactions will be simplified so that customers can do more. Simplification will happen in three areas: simplifying our consumption model, simplifying our portfolio, and simplifying user experience. Software consumption will be simplified by moving its entire portfolio to the cloud. Every SAP product will be standardized on the common HANA platform.
User Experience. Finally, the user experience will be made simple by offering a mobile first approach. Through simplification, SAP hopes to drive innovation and further grow. In the next few years, as well, emerging markets will continue to be a growth driver with high double-digit growth in software and cloud revenues.
SAP stays committed to its customers' success.