SIDC goes live with SAP B1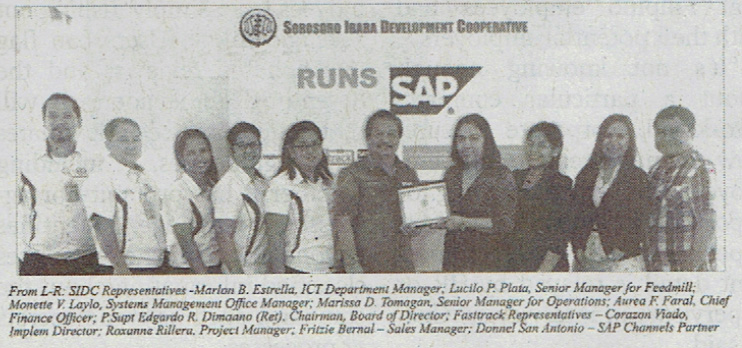 Sorosoro Ibaba Development Cooperative (SIDC) completed a live implementation of SAP Business One in February this year, signaling its advancement towards integration of its varios business processes, SIDC Chairman Edgardo Dimaano recently announced.
SAP Business One is an Enterprise Resource Planning (ERP) system and SIDC teamed up with Fasttrack Solutions, one of SAP's premier partners in the Asia-Pacific region and a Gold Partner in the Philippines, for this partnership.
"For several years, SIDC run businesses using stand alone system. We struggled with various difficulties on report consolidation, inventory monitoring and centralization of operations. There was no real-time history of business partners and items, and documentation of all transactions was incomplete," said Monette V. Laylo, SIDC's Project Manager.
SID is the largest agri-based cooperative in the Philippines with more that 25,000 members and has ventures of feedmilling, rice milling, savings and loans, retailing, organic fertilizers, resort and adventure park, livestock farming, ware refilling, gas stations among others.
Marlon Estrella added that the cooperative's fast-growing operation highlighted the need to procure Enterprise Resource Planning (ERP) Software.
According to Leo Baning, Channels Manager of Fasttrack Solutions, SIDC previously had a stand-alne system per branch, lacked system controld and had a complex business process for each module. "SAP Business One offered corrective action for all these."
SAP has been the global leader for businesses solutions for more that 40 years.
After it went live with SAP B1, SIDC was able to have real-time inventory monitoring and item movements, consolidated reporting, hassle-free access to business partners and items history, and complete documentation of all transactions.
"SAP Business One remains the ERP software of choice of Filipino companies who want to integrate their business processes to be more efficient and competitive," Banog added.
Laylo said SIDC looks forward to improved performance and even faster growth in a competitive environment."We can never go wrong with the SAP brand," Laylo said. "Things can only get better from here."