Employee Management Software
Choosing the best employee management software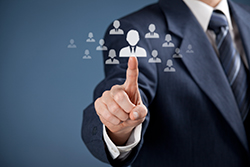 The traditional thinking is that people are people and machines are machines. Employee issues are best handled by people, while the more complicated and technical issues of machines are best handled by formulas and configurations.
There have been a few significant shifts in the perception of human resources among today's industry leaders. Instead of human RESOURCES, or a mere input to production and endowed with specific functions that will eventually be used up, employees are now seen as human CAPITAL. As capital, employees have limitless potential and can contribute to the organization in a myriad of ways.
Managing the most valuable capital of all — human capital — is a complex task that is better performed using solutions powered by technology. These days, different kinds of employee management software abound, and it is up to the organization to choose which one fits its needs, its objectives and its budget.
The employee management system software options available are of course centered on the core employee management functions, recruitment and payroll. These are the most basic aspects of running a small or medium sized business, measured by the number of employees. An important feature of these employee management software is the capability for an objective evaluation, which is how employees' performance is measured; this, in turn, would provide an unbiased basis for succeeding action such as promotion, salary increase, transfer, and even reprimand, suspension or dismissal.
There is no such thing as the "best employee management software." There is only the best employee management software for your organization. For example, given the sheer amount of metrics these days, and the numerous sources of information about a certain person, a cloud-based human capital management system that allows employee managers to keep up with their people and their dynamic needs and situations might be ideal.
Small and medium sized firms can especially benefit from this employee management software package because of its practicality. Because it is cloud based, costs are brought down drastically, with the system offering flexibility and efficiency never before seen in traditional, on-premise products.
Compliance and regulatory demands within the industry and the country and general are also best responded to by an employee management software that is attuned to the requirements and regulations of the external community. Choosing the best employee management software for your company means knowing what the latest ideas and trends in human capital management there are.
Indeed, employee management is crucial to any organization because human capital makes the most contribution to the business. Even with the most sophisticated equipment, a firm would not be able to achieve its full potential without the right employees to drive it. Thus, once people are inside the organization, all aspects of their stay there must be managed well so that they thrive, to the benefit of the company.
Ironically, this function especially in a large organization is too complex to tackle without any technical boost. Employee management system software abound so that companies can make the right choices, and keep on doing them.
Finally, the availability of a cloud-based employee management software is also a factor given the convenience, efficiency and cost-effectiveness it offers. Companies would do better to open their eyes and ears to the more dynamic brands available in the market, especially if they are backed by credible and well-regarded global companies.
It's an easy decision to resolve to finally use such a software. The more challenging task is to determine the best employee management tool that is right for the company, taking into consideration the objectives of its managers, its priorities, its benefits, and the costs they would entail.