B1 SmartDash – Business Analytics Rapid Deployment Solution
B1 SmartDash is a solution specialized for B1 clients wishing to implement a business intelligence solution at a low cost and within a short amount of time. It has pre-built and pre-configured dashboards and reports to address your most essential reporting needs and is fully integrated with your SAP B1.
What are the Benefits of B1 SmartDash?
• Accelerated deployment to Go Live
• Minimized report development period
• Lower overall cost
• Flexibility for further customization
• Minimize need for specialized SAP skills
• User enablement
What Business Processes are supported by B1 SmartDash?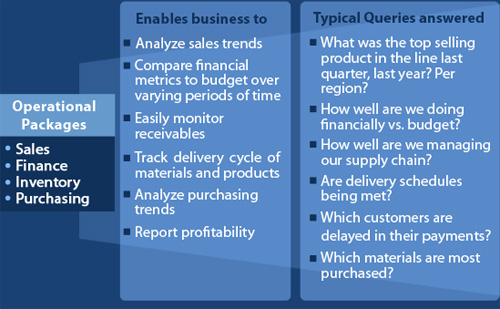 What does it provide?
Prepacked Dashboards and Webl Reports
The SAP B1 SmartDash has pre-packaged reports but also allows you to create ad hoc sales analysis reports. The following dashboards and sales reports are packaged to help you get started: