It's happening in Germany, the United States, Canada and Singapore. Who knows where it can go next?
A cloud-based application for carpooling employees has highlighted SAP's concern for the triple bottom line — financial, social and environmental benefits — and its own employees are enjoying the solution not as a service to offer customers but as a way to make their own lives easier.
Called TwoGo, the software matches an individual with others situated near him or her and gives instructions through email on the time and location at which they are supposed to meet.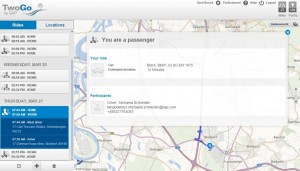 The search and coordination are automatic and a car owner can accommodate as many as four passengers.
SAP employees benefit financially by saving on gas expenses. They meet new friends and build their network. They help ease congestion on the road. Most importantly, they lessen the emission of greenhouse gases that contribute to global warming.
Thus far, TwoGo has saved 620 thousand kilometers of driving and 88 tons of greenhouse gases since it was first used by SAP itself in mid-2011.