SAP Manufacturing Software / Manufacturing Software Philippines
With all the competition that your business gets every day in the manufacturing industry, you will need to have only the best practices and tools to get ahead from the others. Adaptability is the name of the game. When others seem to be scrambling for answers, you should already have a solution.
Having SAP Manufacturing Software run in your business should surely fire up your profitability and make your business flow smoothly without getting lost in the dynamic nature of the manufacturing industry.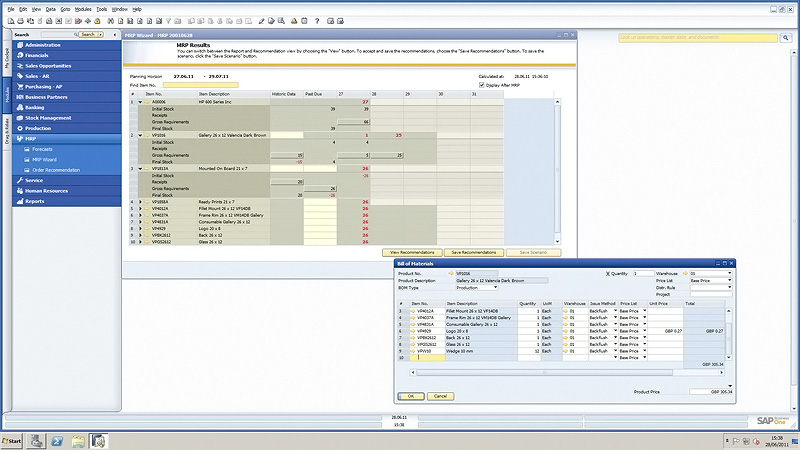 SAP Manufacturing System helps you through the following means:
Get you connected to your production through enterprise resource planning (ERP) system even if you are on travel
Save you money from primary costs, complexity, and total cost ownership using prebuilt standards-compliant connectors
Amplify your productivity personnel through deliverable information
Help you in monitoring, measuring, and controlling the process-improvement initiatives
Assist you in improving all of your assets, especially the poorly performing resources
Give you quick return of investments in a shorter period of time
Our Clients in the Manufacturing Industry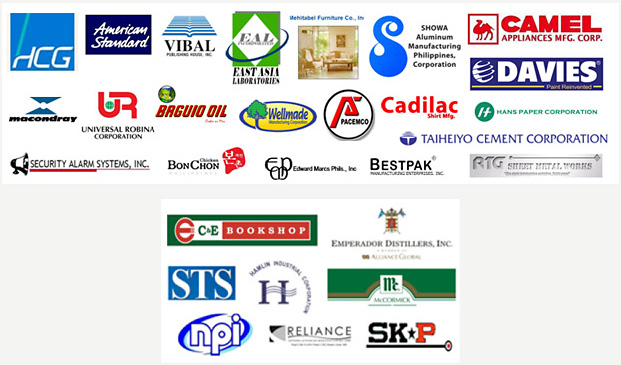 SAP Manufacturing System will automate all aspects of your business. SAP Manufacturing Software can integrate your manufacturing cycle production up to the fullest capacity, with minimal to no error.
The Core Manufacturing Execution System (MES) functionalities in SAP lets you do dynamic routing by presenting algorithms to attain real-time load balancing in a random processing environment to increase the performance of the system through workload balance and reduced work in-process queues. It also gives easier traceability to your products as it captures and references comprehensive and permanent record of products, including complete multi-level detail, and allows quick electronic recall of product, process, resource, and material information
What Processes are covered in the SAP Manufacturing Software? 
Manufacturing Visibility
Manufacturing Planning
Manufacturing Execution
Manufacturing Collaboration
Site Logistics(Warehousing)
Enterprise Asset Management
Quality Management
Environment, Health and Safety Compliance Management
Manufacturing Operations Framework
(click to englarge)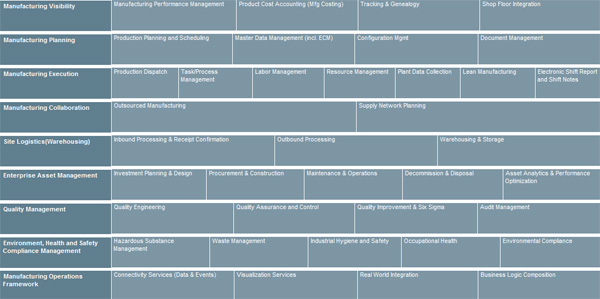 Manufacturing Information System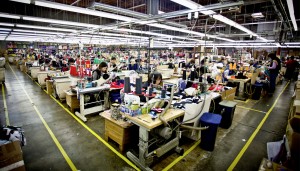 With the technology used with every SAP Manufacturing Software, accessibility is just a breeze. You can monitor all of your production even if you are elsewhere doing other businesses as long as you are connected to the web. You get a real-time update of your information and get a complete visibility on what operations are running, have been completed, pending, nonconformance tags, and the likes while also providing you with manufacturing and maintenance processes and manages all of the information required for fabrication, tooling, sub-assembly and final assembly
SAP Manufacturing Software can also manage your inventory by functioning as an Inventory System. It provides real time assessment for all of your items in stock while giving you enough monitoring power to view your inventory database in just a few clicks. It automatically updates your database each time an item is sold, and creates a purchase order every time your stocks are at minimum, which in turn, gets updated with your accounting department the moment the orders arrive.
It will let you record and track all of your stocks of materials with complete information on its quantity and value. The Manufacturing Information System can also help you in planning and documenting your stock movements, as well as with monitoring of performance of your physical inventory.
You can be rest assured that your business will surely get the boost that it needs to compete with other companies without worrying about your processes and inventory needs.