Harness the Power of SAP Business All in One
Need a business management solution that's highly configurable and has the flexibility to scale and adapt as your business grows? With SAP Business All-in-One, you can choose from industry-specific solutions, qualified SAP partner solutions, or solutions created within our fast-start program.
Ranked No. 5 in Asia Pacific for SAP and No. 1 in the Philippines, FASTTRACK is the only SAP partner in the Philippines with the most citations and awards from SAP AG. Recognizing its feat in sales and implementation, FASTTRACK has been acknowledged for three straight years in both local and international award giving bodies of SAP AG. With the company's full commitment to SAP solutions, it has risen to a level of excellence in consulting and implementation of SAP products and technologies.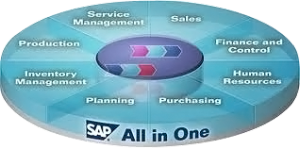 Testimonials from Our SAP A1 Clients:
[testimonial_wrap]
We aim to streamline our way of managing our business. One of the ways to do this is by acquiring a business solution that will adapt to our Real Estate management requirements. Choosing SAP has proven to be a successful method in ensuring that our business processes are proactive and intelligent[client_name]Angie de Villa-Lacson (ArthaLand's President and CEO)[/client_name]
SAP has improved our operations. In terms of sales ordering, entries have become faster and more accurate. Production planning has become more efficient as well since we can see in real time our inventory levels. There is now also better control in materials management and accurate reports are made because information comes from only one source.[client_name]Sysu-McCormick[/client_name]
Before implementing SAP All in One, we had to make do with the figures we manually generated. This resulted in delays. We were also concerned over the accuracy and integrity of the figures being presented and slowed down the whole decision-making process.[client_name]Teresita Ilagan (Comptroller, Victorias Milling)[/client_name]
[/testimonial_wrap]
Our SAP A1 Clients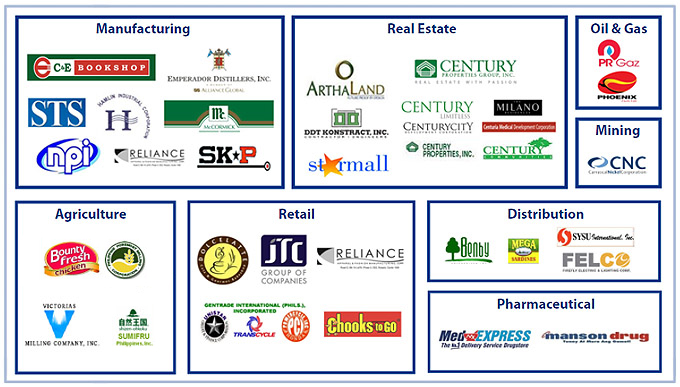 SAP Business All-in-One is:
• Comprehensive – Provides broad and deep business functionality that leverages industry-specific best practices and streamlines processes
• Scalable – Can grow and adapt as your business needs change
• Reliable – Is built on a proven foundation of SAP software and technology
• Predictable – Ensures rapid payback with predictable time to value at an affordable cost with SAP Business All-in-One you can:
• Get full visibility across your entire business
• Address your industry-specific requirements
• Connect with your network of customers, suppliers, and business partners
What are the Key Functionalities of SAP All-in-One?
Accounting and Financials – Create accurate financial statements and integrate all operative transactions throughout the company.
Sales and Service – Meet customer demands, support the entire order-to-cash process, and provide after-sales support.
Procurement and Logistics Execution – Control costs and manage the full sourcing and procurement cycle.
Inventory Management – Track the quantity, value, and movement of inventory in real time.
Human Capital Management – Manage staffing change and streamline payroll processes.
Product Development and Manufacturing – Improve the product life-cycle process and manufacturing operations.
Reporting and Analytics – Plan, measure, and control organizational processes.
Corporate Services – Lower administrative costs, increase transparency of operations, and improve adherence to corporate, legal, and regulatory requirements.
SAP Business All in One Overview
To create an IT infrastructure that will support your company's growth, you need a unified business management solution on an integrated platform that offers the flexibility to adapt to changing business requirements. With SAP All-in-One, you can help your organization focus on your customers and gain key business benefits.
Improve Financial Management. By enabling you to accelerate financial closes, increase the accuracy of financial reporting, and maintain superior cash management.
Maintain Operational Excellence. Improve your efficiency and effectiveness by streamlining business processes, enhancing service levels, and cutting costs and errors.
Enhance Agility. SAP All-in-One allows you to respond more quickly to change, enhance customer experiences, and differentiate your company from your competitors.
Unify and Simplify. Simplify your business and IT landscape across functions, regions, and teams.
Drive Adoption and Improve Productivity. SAP All-in-One gives you the advantage for faster adoption, increased productivity, and fewer errors.
[notify_box font_size="13px" style="blue"]
For a better understanding of SAP A1, we could set a meeting for you to see its core features. A demo will let you see SAP Business All in One in action so you could assess its critical features,  the system's ease of use and how it could help your business grow.
Get a Free Quote and Demo
[/notify_box]
Awards & Recognition