The enabling, empowering SAP accounting software
SAP accounting software is a financial accounting and reporting software that records transactions, reports operating data at the end of every month or quarter, and analyzes financial data.
SAP accounting software has revolutionized the computerization of the accounting system, enabling companies of whatever size in whatever industry improve their data handling and financial processing capabilities.
Modules of the SAP accounting software include accounting, reporting, accounts receivable management and others. The increased efficiency allows easy access to data and enables managers to make better business decisions.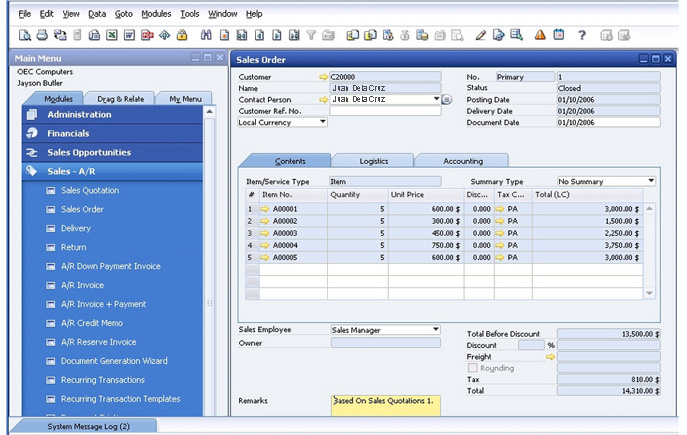 Keeping track of what goes on in a company is difficult and time consuming especially if done manually. With SAP accounting software, the time and effort spent on manual tasks can now be channeled to more analytical activities that would help the business strategically.
Aside from this, SAP accounting software also allows a company's customers to connect to it and place their orders through the system. Thus, the orders are processed faster and are insulated from external factors like human error and delays.
SAP accounting software is easily learned by company staff especially those with accounting and information technology backgrounds. In the beginning, SAP/vendor representatives will implement the software, adapt it to the company's specific needs and train personnel on its use. SAP accounting software also needs to be updated regularly to higher versions. Consequently, the IT infrastructure of the company needs to be able to support these data/ capacity requirements and must also be upgraded from time to time.
All of these will ultimately redound to the good of the company. The objective of SAP accounting software is to enable the company to be more efficient, more flexible, and more responsive to the needs of their own internal and external clients. SAP accounting software is a valuable tool to achieve these objectives.
No longer is accounting a tedious, repetitive aspect of operations. SAP accounting system frees up more time so that managers and employees can use their time and talents to analyze trends, grow the business and make sure they deliver the best product/ service to their customers.
A Preview of SAP Accounting Software