Speed up Business Performance amid the pandemic with SAP Intelligent Robotic Process Automation (RPA)
Automate repetitive manual processes by creating, scheduling, managing, and monitoring intelligent bots. With SAP Intelligent Robotic Process Automation (SAP Intelligent RPA) services, you can redirect resources toward high-value activities and processes. Gain insight into what your organization could achieve with SAP IRPA.
Speed up Business Performance amid the pandemic with SAP Intelligent Robotic Process Automation (RPA)
Automate repetitive manual processes by creating, scheduling, managing, and monitoring intelligent bots. With SAP Intelligent Robotic Process Automation (SAP Intelligent RPA) services, you can redirect resources toward high-value activities and processes. Gain insight into what your organization could achieve with SAP IRPA.
ERP system has been the buzz word in information technology for some time. Companies have spent considerable portions of their budget acquiring this system in hopes of making their business performance improve, exponentially. But does the ERP system really live up to the hype?
First, it would be good to trace the history of the this particular ERP – the SAP System.
The ERP system is said to be the nerve center/ backbone of the business. Without it, the information would simply be isolated and meaningless data.
The ERP system began in the manufacturing sector even though not all ERPs were developed from a manufacturing origin. The very first ERP system developers started with accounting or maintenance of human resources components. In the 1990s, a standard ERP system pretty much covered all of the core business functions of a company in any given industry.
It was not only private corporations that took interest in ERP systems. Government institutions and non-profit organizations also started using their own ERP systems. But as the year 2000 approached, many people became worried that big-time data disruption, or the Y2K bug, would affect their information. There was also the integration of the currency and financial systems in Europe. As a result, companies wanted to be secure with their data and demanded they back up entire systems. These worries also spurred the further development of the ERP system.
The core business functions were the initial focus of the very first ERP systems. These core functions are internal to the business, those that did not involve any interaction with suppliers, customers or the general public.
The internet provided new opportunities and challenges, and the coverage of the ERP systems was expanded to include so-called front-office functions. Customer relationship management, e-business and supplier relationships because just as important to manage as core business operations.
The advent of the internet however brought new challenges as well as opportunities. With data becoming more accessible to more people around the globe, front-office functions – those that dealt with the public – became popular. Terms such as customer relationship management, e-business and supplier relationship management emerged, highlighting the necessity of business to manage its communication with external parties. This became part of the evolution of the ERP system.
Second, it has to be defined. What exactly is an ERP system? Enterprise Resource Planning or ERP system is a tool that covers all aspects of a business operation, from beginning to end. Everything, from production planning, manufacturing, sales, marketing, finance, human resources, customer relationship management and many others are included as part of the entire business process.
There was a time when existing business solutions helped businesses by making processes easier for each phase of the operations. For example, there was software for the accounting process, another one for sales, yet another one for inventory and distribution. However, bringing the results of each of processes together for a more complete picture of the business also became difficult, time consuming and expensive. The ERP system changed all that.
In the same way people now prefer going to the malls as a one-stop shop where they can dine, see a movie, shop for clothes or shoes or books, have coffee, do their groceries and pay their bills, so has the tide turned in the favor of a one-stop solution like the ERP system that brings aggregate benefits from a single decision of procurement. Imagine having to go to different places and deal with different solution providers – what a tiresome, counter-productive chore!
Some small and medium companies may think twice about spending all that money on a system when they could very easily hire IT consultants to develop from scratch a personalized system that is tailor fit to the company. This may hold for the short term, but ultimately, and given the way businesses of all sizes are moving in this day and age, an ERP system is still the way to go.
What are the standard features of an ERP system?
Foremost, an ERP system offers a single solution for the entire business process. Each function may have a separate module, but in the end, each module is part and parcel of an aggregate ERP system.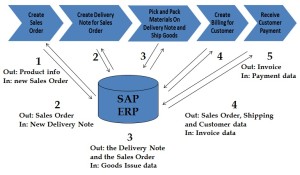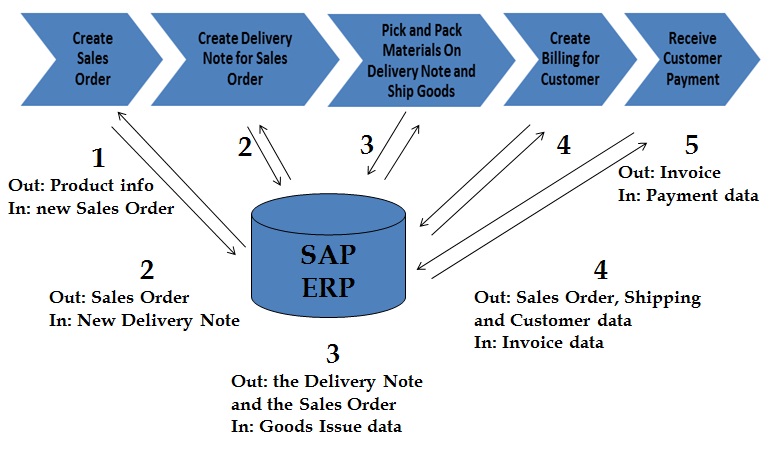 And since the modules of ERP systems make up parts of the whole, they possess a uniform look and feel that makes it easy for the end-user to be familiar with. It also gives users the notion that all the parts comprise a bigger consolidated system. Thus, if they have learned how to navigate and be familiar with the interface of one module, then they will have no trouble using the others as well when the need arises, or when they have to help a colleague do the same.
An ERP system is costly. However, that is if you think of obtaining it as a one-time expense. If you think of it instead as an investment that you would be able to recoup in a given amount of time, as it enhances the company's operations and productivity, then it will reveal itself as perhaps the best investment decision you have ever made.
Latest ERP systems are not anymore the generic type. Companies like SAP are able to come out with ERP systems for the specific, sometimes unique, requirements of industries.
What then are the advantages of an ERP system?
First, it is easily learned by employees. Since one module looks and feels like the other modules, employees and end-users get the sense that once they have learned once, they can navigate the whole system already. The ERP system is also designed such that those who are not technically savvy would still be able to use them. Gone are the days when people would find computer software too cumbersome or complicated to use.
Second, the modules automatically link with each other. While the business has many aspects, both front- and back-office functions, ultimately no business area is isolated. Information from one unit will necessarily be used by other units. For example, orders will have to be linked with inventory. Sales figures will be linked with the accounting for revenues. Human resources issues translate to financial costs. Warehouse information will be used in determining distribution details. The beauty of the ERP system is that the connection is seamless and automatic – this saves a lot of time and effort that previously were wasted in exchanges between units.
The ERP system improves efficiency. Sometimes, the same task is performed twice by different persons. In other times, it takes an employee an extraordinarily long time to accomplish a given task because he or she still needs to get that information from another unit of the company, another branch or another country. But the ERP system does away with all these redundancies.
As a result of increased efficiency, the menial, repetitive tasks are avoided and employees are freed up to engage in more productive activity.
The ERP system improves the quality of executive decisions. Because the ERP system is able to gather and consolidate information from various aspects of operations and from different locations, executives and decision-makers are able to consider thoroughly the repercussions and effects of their acts. They are able to see the bigger picture and note how a decision in this area will likely affect the entire scenario or other units.
The ERP system enables better planning. Information provided by the ERP system is based objectively on what happened historically, given a specific set of conditions and variables. It becomes very easy then to assign values to such conditions and thus forecast results, as well as craft business plan to improve company performance and achieve growth.
The ERP system can also be tailor made for a specific industry, given its special requirements or extraordinary demands. Thus, a company would be at par with (or ahead of) its competitors in terms of adapting to industry regulations, new guidelines, and the like.
Finally, vendors of the ERP system are already advanced in their knowledge of the technology, so companies would get superior advice and input on how to use the ERP system for the benefit of their business.
Indeed, using the ERP system to boost and grow the business is more than just a fad. It has become a requirement in order to stay competitive and to meet the challenges of a whole new kind of business challenge – one that is global, performance-driven, and always open to change.
LET'S TALK ABOUT YOUR PROJECT
FASTTRACK SOLUTIONS, INC.
10/F The Valero Tower
122 Valero St. Salcedo Village
Makati City
2f AMV Bros Bldg., #9 F. Cabahug St.,
Mabolo, Cebu City
Unit 403-A 4F Cybergate Delta Bldg., JP Laurel Ave., Davao City
OFFICE HOURS
Monday to Friday
9:00 AM to 6:00 PM
Fasttrack is the only partner in the Philippines invited to become a member of the United VARs. By virtue of being part of the United Vars, Fasttrack is now recognized as a Global Partner & of Platinum Standard.
FASTTRACK SOLUTIONS, INC.
10/F The Valero Tower
122 Valero St. Salcedo Village
Makati City
2f AMV Bros Bldg., #9 F. Cabahug St.,
Mabolo, Cebu City
Unit 403-A 4F Cybergate Delta Bldg., JP Laurel Ave., Davao City
OFFICE HOURS
Monday to Friday
9:00 AM to 6:00 PM