SAP Construction Software
SAP Business All in One Real Estate Solution is a comprehensive, fully integrated and localized solution to address the business challenges in the Real Estate and Construction Industry.  It is an end to end business solution that realizes the value of your money by streamlining your real estate and construction processes.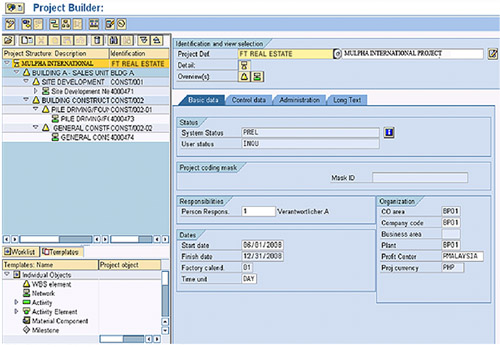 Our Clients in the Construction and Real Estate Industry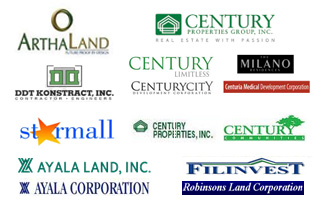 Planning & Business Development
Planning and business development are essential in identifying the most prosperous opportunities and driving these opportunities to realization.
Project Management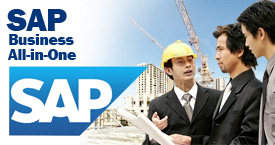 Leading companies use a construction project management software that include robust project planning and management capabilities. This enables them to create baseline budgets and schedules based on accurate estimates, and to more easily manage downstream variations in definition, scope, costs, and other concerns.   From the planning phase through the exectution and close-out of a project, communication and collaboration across project teams is key to success.  Improving efficiency of information sharing enables the execution of on-time, on-budget projects.  Overall, the right ERP project management solution enables companies to manage risk and produce predictable outcomes for themselves and their clients.
Subcontractor & Supplier Management
Studies show that companies that nurture collaborative relationships with subcontractors and suppliers consistently outperform those that do not.  To build valuable relationships, companies need to adopt tools such as this construction management software for evaluating potential business partners and measuring performance over time. Companies should reinforce their contractual commitments to suppliers and subcontractors by delivering secure access to internal functionality for processing orders, managing invoices, and updating specifications
Resource Management
The proper management of labor, equipment, materials and fabrication can be the difference between project profitability and failure.  That is the reason companies seek better ways to optimize thier use of valuable project resources and to manage their self-performed work, both in the field as well as off-site production, fabrication and assembly.  Successful companies maximize the profitability of their resources like materials, labor, equipment and tools, while managing documents and interacting with strategic partners such as suppliers and designers.
Real Estate Operations
Efficient asset and lease management is an essential part of operating any real estate portfolio. Makeup of the portfolio, if it is composed of office, retail, industrial, or multi-family sites will determine the type of site and lease information that needs to be captured and will influence business processes that will need to take place. Inefficiencies in process and lack of data transparency can result in excessively high operating costs, inaccurate strategic decisions, and tenant dissatisfaction that can have a direct effect on the bottom line of a company
Facility Operations
Regardless if your company is a facility service provider, or a facility owner which manages facility services internally and/or by contracting out these services it is of utmost importance to optimize facility related processes, keep occupant/customer satisfaction high, and a transparency on related costs. This will allow facility service providers to reap the benefits of higher margins, and facility owners to reduce their operating costs while maintaining high levels of customer satisfaction.
What Business Processes are covered in this Construction Software?
Project Management
Project Portfolio Management
Planning and Scheduling
Project Execution
Contract Management
Project Financials
Subcontractor and Supplier Management
Supplier Planning and Contracting
Subcontractor Management
Expediting & Tracking
Resource Management
Procure to Pay with Landed Cost Determination
Stock Transfer Order
Returns Processing
Reservation
Materials Issue to Scrap or Condemnation
Workforce Management
Equipment and Tool Management
Real Estate Operations
Asset Portfolio
Lease Management
Common Area Management
Facility Operations
Contract and Service Level Management
Service Delivery and Operations
Infrastructure Management
Planning and Business Development
Real Estate Portfolio Management
Marketing and Sales
SMS Gateway for Real Estate Sales
(Marketing, Sales Reservation, Billing & collection)
Commission Computation
Opportunity Management
Financial Accounting
General Ledger
Accounts Payable
Accounts Receivable
Asset Accounting
BIR Forms and Reports
Controlling
Profit Center Accounting
Cost Center Accounting
Internal Order
Cash Management
Cash Position
Liquidity Forecast
Manual and Electronic Bank Statement
Check Warehousing
Business Intelligence
Looking for a Construction Software for your Construction or Real Estate Business in the Philippines? Look no further, Our Construction ERP Software handles almost everything. It is a Construction Accounting Software, Construction Inventory System, Construction Estimate Software, Construction CRM Software and a Construction Project Management Software in one!
Awards & Recognition