Fasttrack Solutions and NetFoundry announces strategic partnership
NetFoundry and Fasttrack Solutions have teamed up to help enterprise Filipino businesses achieve agility by creating their own application-specific networks in the cloud, on any device.
The NetFoundry platform provides secure, high-performance networks on demand, and allows businesses to securely and reliably connect applications without the constraints of VPNs, custom hardware and private circuits.
About Netfoundry
NetFoundry is a software-only solution that enables our customers and partners to instantly spin up secure, performant, application-specific, zero trust networks with public Internet reach and scale. These "AppWANs" are created and managed using secure, developer-friendly web-based orchestration tools and APIs tailored to fit within application development and operation life cycles.
Application teams can easily configure and operate AppWANs, which act as one-to-many discrete application-specific microsegments. Each AppWAN is a selected subset of endpoints associated to an application with which, authorized endpoints are allowed to exclusively communicate, creating a zero trust relationship. NetFoundry AppWANs enable non-expert Line-of- Business and IT project teams to quickly and independently spin up and scale out compliant, performant, Internet-distributed applications as easily as they spin up services inside a public or private cloud.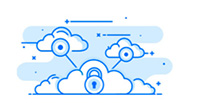 Instant, software-only cloud-to-cloud and cloud-to-edge connected solutions across the Internet, eliminating the costs of expanding private networks and infrastructure to cloud without sacrificing security or performance.
Instantly connect IoT to fog, core, and cloud over any Internet connection. NetFoundry seamlessly integrates with leading identity & platform providers to ensure secure, context-driven IoT networking anywhere.
Put the network inside your application. Improve security and performance to SaaS without hardware and VPNs, or integrate network with your app & its identity, policy, security, and performance needs.