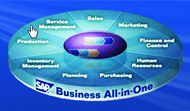 SAP System may sound hi-tech and complicated but it's really just a tool to make your life simple and hassle free. It makes sure you stick to essentials. The 
SAP system software
 is a way to manage the 4Ms of your business: Material, Manufacturing, Machines and Money. This is because the SAP system covers the entire breadth of your business operations, from sales, inventory, manufacturing, human resources, distribution and finance.
Read More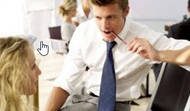 Believe it or not, accountants may just be the best relationship partners you'll ever have. Here's why: 1. They are champions of balance Accountants' basic training tells them that assets are equal to liabilities plus stockholders' equity. They know that an action in one side of an equation will have implications on the other side. If you must acquire additional assets, you have to either borrow money or ask your investors to cough up cash.
Read More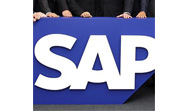 It was in 1972 when five engineers from IBM broke away from the established firm to see what they can make of themselves. It was the decade when mainframes ruled and the five mavericks wanted to make a business out of their thinking out of the box. The first SAP software was introduced soon after, with only a shoestring budget as the founders were just starting out.  
Read More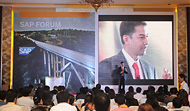 SAP Philippines is a wholly-owned subsidiary of SAP AG, a company based in Germany which has been around for 40 years. The mother company of SAP Philippines is the top provider of applications and services making companies become well-run businesses. This is true for all sizes of companies in at least 26 different industries.
Read More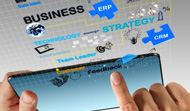 If you had asked me 20 years ago what "business software" meant to me, I would have stared back at you blankly. I am not what you would call a techie person. I am, first and foremost, a businessman. My business of baking bread and selling it involves a very basic process that has been used for years, centuries even, by the most traditional bakers all over the world. Having a business software was a concept that was alien to me.
Read More
A 
Computerized Accounting System
 is now a basic necessity and no longer a luxury among businesses of whatever orientation and size. In the past, accounting was done manually by business owners. The process proved time-consuming, cumbersome and prone to human error. There were also problems with storage and retrieval of information, not to mention consolidation and reporting. Computerized accounting systems have revolutionized the way businesses are conducted. They have enabled companies to paint a more accurate picture of their organization's financial performance and to make comparisons and across places and periods of that performance.
Read More
Complex would be a good word to describe the oil and gas industry; software for oil and gas, even more so.
The oil industry is believed to be as old as five thousand years old. Over generations, the industry has become more important as it produced energy that in turn fueled economic activity and development of all countries of the world. The price of oil now largely determines the prices of goods and services in the world market. Given this, only an industry- and business-specific oil enterprise resource planning for oil and gas will be able to respond to the unique needs of players in the sector.
Read More
What are the challenges to managing an agriculture company and how can the various types of agriculture software help in carrying out this task?
Contrary to popular notion, the business of agriculture is not static, depending only on practices that have been used for generations. Because of the increasing complexity of the business, the volatility of agricultural inputs, world developments, higher management sophistication and the benefits provided by the information age, having in place an agricultural management software is one of the best decisions that any executive or manager of an agricultural company can make.
Read More
Fasttrack Solutions Inc. the Best SAP Partner in the Philippines and Ranked No. 5 in Asia for SAP, Fasttrack is the only 
SAP Partner in the Philippines
 with the most citation and awards from SAP AG. Recognizing its feat in sales and implementation, Fasttrack has been acknowledged for four straight years in both local and international award giving bodies of SAP AG. With the company's full commitment to SAP solutions, it has risen to a level of excellence in consulting and implementation of SAP products and technologies.
Read More
The poultry farm business is generally lucrative and if run properly, and complemented with a good poultry farming software, it offers great potential for its shareholders.  A poultry business can focus on egg production, chicken breeding, or meat production.
Poultry of course deals with chicken, which aside from pork, beef and fish counts as a staple in the diets of an average consumer in any household. Chicken is also very popular among fast-food chains because it cooks relatively faster. In fact, instead of outsourcing their chicken supply, many fast-food restaurants have their own poultry farms so they can maintain consistency in the quality of their chicken.
Read More
Cost accounting system
 refers to a type of accounting system that evaluates how a company is doing and helps managers make decisions based on the costs of doing business. The cost accounting system approach is applicable to all kinds of business, whether it is manufacturing or trading products, or whether it is delivering services.
Read More